Finding a competent man with van in Manchester can be a bit of a challenge. While there are a lot of offers and a lot of removal companies around there aren't that many that provide actual quality moving services in Manchester. Often local, residents and businesses are faced with a dilemma of choosing between bad and worse. However there are good moving companies in the city of Manchester and ours is one of them. We are a team or perfectionists dedicated to proving only top level removal services in the entire area of Greater Manchester. We believe that this great city and its people deserve only the best services that a company can provide. Our company has operated in the county of Greater Manchester for several years now and we have had a great working relations with each and every one of our customers. We offer the widest a range of man and van moving and relocation services in the region and we have the most qualified and competent removal team in the city of Manchester. We win our customers over with dedication, fast and safe removals and competitive prices. Our services are flexible and set to fit our customers needs and requirements, as the main goal of our company is the customers complete satisfaction.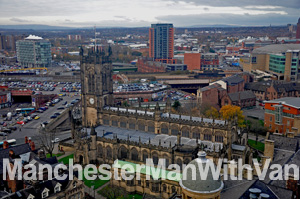 When people talk about the United Kingdom there are a few topics that generally tend to come up – tea, driving on the other side of the road and if it's women talking – men with sexy accents. However if the people conversing are sports fans, it's inevitable the name Manchester gets at least mentioned. Home of two of the biggest football teams – Manchester United FC and Manchester City FC the city is an iconic place for fans of the sport. However there is much more to this old English city. Besides sports it's also an industrial and cultural center home to both business and arts. Today more than half a million people Live in the city of Manchester and over 2 million in the entire country of Greater Manchester.
Manchester is both a city and a metropolitan borough part of the county of Greater Manchester in England. With a population of little over half a million people it ranks at 7th place in terms of residents among other cities in the UK.
Top moving services anywhere in the City of Manchester
Manchester had its humble beginnings like many other English towns in the 1st century in Roman Britain. The area's permanent settlement began after the roman conquest when the Romans built a fort named Mamucium in 79AD, from where it's modern name comes.. It was a name of a fort and a settlement by it but scholars presume it was itself a Latinisation of an even older Celtic name. There are two theories of what the name means. The firs theory suggest it means breast shaped hill – from mamm which means breast. Alternatively some scholars point out that it is possible the name is derived from the Brythonic word mamma – mother and refers to a possible river-goddess of the River Medlock.
Manchester got its town charter during the Middle Ages in the beginning of the 14 century – in 1301. However the most important period in Manchester's history is the Industrial Revolution. The city along with the entire region became a real industrial powerhouse to which it is synonymous worldwide even today.
Today Manchester attracts numerous visitors each year not with its sports but also its culture and rich historical heritage. The architecture of the city of Manchester is a mixture of old and modern – from Victorian buildings like Manchester town hall to modern structures like Beetham Tower – the tallest residential tower in England, or several other skyscrapers. Most of the city's public monuments are centered round Albert Square and Piccadilly Gardens. A short list of notable landmarks and points of interest would include:
The monuments to Prince Albert, Bishop James, Queen Victoria and the Duke of Wellington
The statue of Abraham Lincoln by George Gray
Manchester Opera house
The Museum of Science and Industry
The Museum of Transport
It's a city with class and naturally its residents are quite demanding. For that reason our company offers for hire only the best removal specialists and our services for man and van in Manchester has no equal in the entire county. We assure all our customers that their removal project will be executed by the best professionals around. Our services are fast, safe and affordable. We never cut corners and the low price of our services is not at the expense of their quality. We try to build trust between us and our customers and would never risk disappointing them.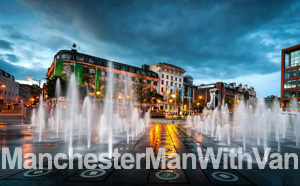 Why would a resident or a company call us to book a man with a van in the city of Manchester? There is certainly a lot of competition in that field of work. However behind the appealing offers and pretty words of most companies there are usually empty promises and low quality. Not with us. Our company does not settle for average, we don't even settle for good. All our employees strive for perfection and we offer the best removals in Manchester and Greater Manchester county. With experienced drivers and dedicated support team you can expect only perfect services. We do not offer just removals in Manchester. The list of our offer includes:
House and business removals
Junk Removal
IKEA collection (or any other furniture store in Manchester)
Storage services (separate service; does not require using our removal services)
We believe in the individual approach to our customers as we understand that each person or company has specific needs and expectations from their hired man and van in Manchester. This is why we offer a flexible pricing plan and services that can be set according to your requirements requirements. Call our number or write us an email for a free estimate on the time and pricing for your moving project. You can use the phone, email or the form on our website to book a van. Hire Manchester's best removal company that offers the best man with van services.
You can use our services any day of the week. If you're in need of a removal with a van hire Manchester's customer friendly removal company. No matter what the scale of your moving project is we are prepared to handle it in the fastest most professional manner. Call our number today for your obligation free quote and book one of the best man and van in Manchester.
Our Man with Van Services
We Help People Move in and out – covering Greater Manchester
Hire a Man with Van
House Removals
Office Removals
Rubbish Collection
End of Tenancy Cleaning
Storage Services