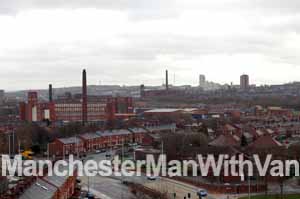 When it comes to removals in Oldham local residents and businesses require speed, safety and reliability. Our company is there to provide. We have been on the market for a man and van in Oldham for several years and are among regional leaders in moving services. We are a reliable partner to our customers wide a wide range of removal offers and affordable and flexible pricing. With highly qualified drivers and staff we are the first choice for supplying safe item transportation and relocation in Oldham.
Along with 9 other metropolitan boroughs Oldham forms the county of Greater Manchester in England. It has a population of 225 thousand citizens. Oldham's total area is exactly 55 square miles which equals 142.4 square kilometers. In terms of population the boroughs takes 69th place in England just below Trafford and above Camden. The borough was formed in 1974 with the Local Government Act 1972 and took the name of the town of Oldham that falls within it's borders.
Move easily from or to Oldham
The town of Oldham is one of the largest towns in the entire county of Greater Manchester. It's population is over 100 thousand people and covers 26 sq mi (67 km²). It is thought the name of the town comes from the Old Norse name Aldehulme. Oldham is one of the oldest modern towns in England dating back to the 9th century. It became word renowned after the Industrial revolution as one of the global textile manufacture centres.
What makes our services unsurpassed in quality if our complete dedication to our work. For our company success is not measured by the number of orders we get but by the number of satisfied customers. So it's only natural we employ only the most qualified professionals. When you book a man with a van in Oldham with our company you are to expect a fast and secure moving. We plan each removal in Oidham carefully to ensure that it will be executed in the shortest amount of time without having to risk your belongings' safety .
Contact us and book a man with van with Oldham's best moving company. Our services are made to fit your needs. You determine the time, date, size of the vans and their amount. Turns out you needed another man and a van in Oldham – no problem. Call us and we'll send another one after the relocation has already begun.
Using our services is extremely easy. If you're in need of a mover with a van hire Oldhams's best by simply filling out the booking form on our website. Or if it's more convenient for you – you can book a removal over the phone or via email. Have additional questions? Our friendly support team is there for you. Just give us a call or write us an email and they'll give detailed information on any aspect of our moving services in Oldham.