Salford is one of the busiest places in the county of Greater Manchester. It is just the right place for removal company like ours to offer its services. For over two years we have been active in the area offering the most efficient removals with man and van in Salford. We have managed to become one of the leaders in moving services in Salford offering quality AND quantity. There is no job that we cannot execute in a fast and safe manner.
Salford has a population of 235 thousand people which puts at 65th place among English districts, Salford is both a city and a metropolitan borough and is part of the county of Grater Manchester. Its area covers 37.5 square miles (little over 97 square kilometers). Historically the city has been an important part of England's textile industry. Along with the entire region there was a boom in the industry with the beginning of the Industrial Revolution.
Salford's leading team of movers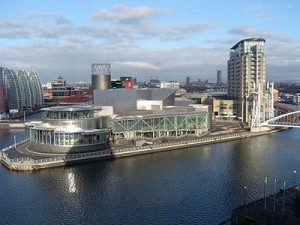 Salford became a borough in 1974 but human activity in the area goes back thousands of years. Scholars have found evidence of human presence on these lands during the Stone Age. The road between Bury and Manchester that was built by the Romans passes thorugh the city of Salford and we have evidence the entire area was economically active during the Roman presence in Britain.
Today the city of Salford attracts visitors with its numerous landmarks – there are over 250 listed buildings in it. Centuries of existence guarantee the city has a lot to offer to tourists. Buildings like the Church of St Augustine and the Parish Church of St Mary the Virgin along with Ordsall Hall and the bridge over bridge over the River Irwell attract the attention of tourists.
With our company you can book a man with van in Salford and have your items transported to any location within the county of Greater Manchester. No matter what how big or small your removal we are prepared to do it. Our drivers have vast experience in both home and commercial relocations and we offer an array of additional removal services and storage to ensure our clients' needs are met. From packaging to delivery we can take care of the entire process. We can even supply the packing materials if you're unable to do it yourself.
Call the number from our website now. Our dedicated operators are prepared to give you a consultation on our services. We can help you make an entire removal plan. And to make sure your removal in Salford is completely personalized we offer flexible pricing. You can take advantage of our services very easy – book a man with van in Salford over the phone. You can also use the booking form on our website or simple send us an email and we'll call you back to arrange the time and date of the removals.