Like any business relation, moving services in Rochdale are to be built on trust. For two years our company has dedicated itself to providing the best service for hiring man & van in Rochdale and we have succeeded in establishing the company as the regional leader in removals and relocations. We believe that only through constant improvement of our product we can build a successful customer – company relation and our credentials are the result of thousands of hours of hard work aimed at perfectly doing out clients moving projects.
We service the entire Rochdale area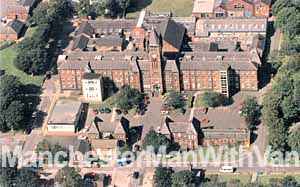 We take advantage over our competitors because of one simple thing – people. It might sound a cliché but a company is always about people. Any organization is nothing more than the sum of its employees or members. For that reason we hire only qualified specialists with substantial previous experience in the field of home and commercial removals. When you book a man with a van in Rochdale with us you can be sure you've booked one of the best movers in the country. All our movers are elite professionals.
To complement our great drivers we've also assembled a large amount of moving vans. Our vans vary in size and we can handle any house and commercial removal or moving an odd item. If you need to transport your furniture to a new home or your business is relocation and you have to transport your office appliances with a van hire Rochdale's best removal company. We take full responsibility for your items. You can rest assured our to have your belongings safely transported by our man and van in Rochdale.
If your moving project has some specifics to it – feel free to call us. We'll give you an estimate on the price and time and help you plan our removal. Once the details have been sorted out we can send a man with a van in Rochdale on any date and time convenient for you.
Leading van hire company in Rochdale
Count on us even if you do not need a full moving service in Rochdale. Feel free to approach us for van hire in the area. We will provide you with a suitable vehicle to cover your relocation needs and even offer some useful tips on how to finish the job better and faster.
Don't forget to tell our helpful support team whether you want a full Goods in Transit Insurance to be added on your quote. This safety-net will further increase your comfort and peace of mind on your moving day, so don't miss the chance.
Take advantage of our expertise
Make sure you never overpay for relocation services ever again. Opt for a premium cost effective Man with Van assistance in Rochdale. See for yourself why we are the best when it comes to transporting goods. Or company has traditions in that business and we are proud with the level of professionalism with which we execute our deliveries. Book us through the phone or over the Internet today.
The modern metropolitan borough of Rochdale was formed in 1972 and became part of Greater Manchester along with nine other boroughs that form the county. It is the 77th borough in the England in terms of population with over 212 thousand people living in within its administrative borders. The borough was named after the town of Rochdale which is within its area. Other towns in the area are Littleborough, Heywood, Middleton and Milnrow.
The town of Rochdale dates back to at least the second half of the 11the century when its written history begins. Historically it was a merchant town important in England's woolen trade. Rochdale takes its name after the River Roch. Modern day Rochdale has a population of 95 thousand people (nearly half of the entire borough) and attracts tourists with such landmarks like its Town Hall situated in the town centre. Rochdale Town Hall is notable for its clock tower.
The Town Hall is also noted for being among the best buildings of its kind in Britain. It has been even admired by Adolf Hitler, who planning to move it to Germany after the successful conquest of Britain in WW2. Fortunately, Rochdale Town Hall is still on its original place.
Rochdale is a market town but at the same it is located in the Borough of Rochdale. The town lies at the foot of the South Pennines. It has been a famous site for trade throughout the years. It marked a significant development as a settlement during the 19th century courtesy of its mills and textile industry. Today it is a residential town and also a good example of a society with Victorian and Gothic architectural style.