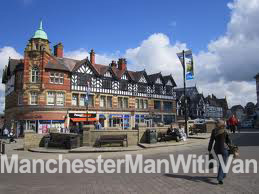 Proving quality services is difficult. Especially removals in Wigan. People have certain expectation when turning to hired help for their removal and first rate moving company in Wigan should always aim to surpass those expectations. It's easy to find a man and van in Wigan but it's difficult to find one with the needed level of experience and professionalism. We have built an entire team of such men and women and thanks to their hard work we've established our company as the local leader.
The metropolitan county of Greater Manchester consists of 10 metropolitan boroughs one of which is Wigan. Locaten in North West England it covers an area of 72.66 square miles ( 188.19 km²) and has a population of nearly 320 thousand people ranking 21st among all English districts. It was created with the Local Government Act 1972 in 1974 and was named alter the largest the former county borough and largest town in the metropolitan borough – Wigan.
Request movers anywhere in Wigan
Currently the population of the town of Wigan is little under 100 thousand – 97 according to the 2011 census. There are two theories about the origin of the town's name. One suggests it's Celtic and was the name of a person. The other theory is that it mean "village". What is known for fact is that the name has been used as early as the 7th century. Modern day Wigan is best known for its sports – the football team Wigan Athletic FC and also the Rugby League team of Wigan Wariors.
The process of our removals can be broken down to several separate parts. No matter whether it's a home or commercial removal we always begin with a careful plan of the entire move. We consult with our customers on their exact needs and expectations and try to set the most convenient for them course of actions. After that we set a time and date with the customer to send a man with van in Wigan to the client's address. The services we offer are flexible. There is no problem for a customer to extend the time our movers are helping them out or do an on-the-fly van hire in Wigan. After our teams arrive at the location they can take care of the entire process – we can bring packing materials, pack the items, disassemble any items like tables or large wardrobes that can't be transported in one piece. All items are arranged safely in the van then delivered at the designated location. Once there they are unloaded and anything that has been disassembled is assembled once again.
If our services interest you, please call our number or write us an email and we'll give you any additional information about the the whole range of services we provide. Hiring a man and van in Wigan is as easy as filling out the booking form on our website. We will get back to you with for your free non-obligatory quotation.