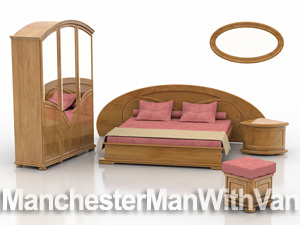 Buying a brand new piece of furniture is easy. However transporting it back home is not so easy. There were probably a few times when you were IKEA and there was this great piece of furniture that you just fit perfectly with the rest of the furniture in your living room that you didn't buy because you remembered what it would take to get it back home. Indeed a lot of the stores offer furniture collection in the city of Manchester but usually the additional charges to the base price of the items are outrageous. On the other hand transporting it yourself is out of the question in most cases. You cannot fit a large wardrobe or king sized bed in a normal car or even in a lot of vans. Still there is the option of turning to a professional removal company for help.
Hiring a man and van in Manchester is a better alternative to using the store furniture delivery service. The movers of a professional moving company are generally much more experienced in properly handling large and odd items. Our skilled movers will easily collect from any furniture store in Manchester and deliver to your home or office. And since we understand that not everybody has the time and patience to deal with assembling a big and complicated item like a large stand we can even include assembling the item in our offer.
Choosing our services when it comes to IKEA collection in the city of Manchester as well as any other furniture store is the right option for any resident of business because:
We offer better prices than stores

Our delivery is much faster and safer

Our drivers are more seasoned in the field of collection and delivery

The

furniture collection services in Manchester

we offer are much more flexible
It's very easy to plan an IKEA collection in Manchester with our company. Just contact us and together we will lay out the best plan for executing the collection. No matter what the day we can send a man and van in Manchester on any day of the week – whenever it is most convenient for you. Regardless the size of the piece of furniture we have the right size van for it so give us a call and we'll arrange for your item collection as soon as possible.