Even a seemingly straightforward removal project can catch people off guard. Sometimes it's the tight deadline, other times it's the limited budget that causes an issue. However, if private and business customers based in WN6 area need to organise for a seamless, inexpensive removal, then our specialised man and van Shevington service will provide the solution. Our selection of versatile and efficient van delivery and removal services covers a wide range of requirements including but not limited to:
Single item removals, relocation of high value possession such as music instruments, art pieces, collections, antiques etc.
Student/dorm removals, partial property relocations, removal of odd/bulky/awkward objects;
Delivery of internet order items and large store purchases;
Commercial goods delivery, business 2 business & business 2 customer deliveries;
Fixed schedule pickup and delivery for private and commercial purposes;
All other types of small to medium scale domestic and commercial property relocations;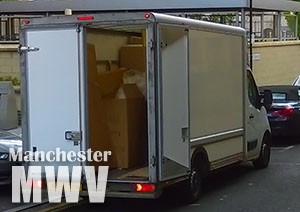 We also offer customers a number of additional services which are available as standalone or in combination with the default removal format:
Licensed domestic and commercial rubbish removals;
Specialised furniture collection and delivery service;
Insured and safe moving services available in Shevington, WN6
In order to cancel out the margin for error, and ensure each stage of the removal is going according to plan and schedule, we employ skilled and experienced movers who will ensure safe handling, damage-free transit and timely delivery of customer belongings.
We recommend letting our knowledgeable removal teams do the packing and securing of items prior to removal as they know how to do this right. If however customers wish to do their own packing, which is fine by us, we can deliver a full kit of industry grade packing and wrapping materials to their doorstep at a very reasonable price.
Our man and van in Shevington is specially designed to deliver maximum affordability in each set of circumstance. In light of this our customers will be supplied with:
Individually prepared service quotes reflective of the actual scale and complexity of the job;
Customised pricing without any hidden fees, able to meet specific budget requirements;
Viewings and onsite quotations for a more accurate price estimate;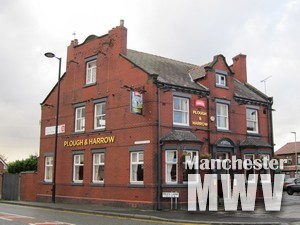 In addition, we provide punctual, round the clock customer assistance via phone and email, as well as free, professional removals advice and tips.
We are fully licensed, registered and insured. Removal services are booked for all days of the week, no exceptions.
Don't settle for anything else but the best
It is never a pleasant time when you find yourself needing to load up something and have it transported to another place. Whether it is all of your furniture or just this one special item you can trust our company to do it for you. We provide the most formidable Man with Van services in Shevington and have been doing it for years. Our experience allows us to really step it up and bring just an elite deliver service to our clients.
Shevington is one of the villages in the Metropolitan Borough of Wigan (Greater Manchester). The area's name is a combination of Celtic and Old English words meaning 'farmstead near a hill called Shevin'. From the twelfth to the eighteenth century Shevington was a manor estate which had its own local governing. The local population used to be quite scattered without a particular village centre having been designated. Traditionally, people in Shevington used to be engaged in farming mainly, and some of them made from the village common too. During the Tudor period, population in Shevington remained in small numbers. Only during the eighteenth century when the common land was made available for development and tenant farming did population numbers start to grow.
Shevington is situated in the Metropolitan Borough of Wigan. It is a village and a civil parish. The name perhaps comes from the ancient celtic word cevn which means ridge. Yes, it is a hill slope settlement. The area was known for its water mills during the 18th century. Corn was ground in those mills. Later during the Industrial Revolution coal mining emerged. In the beginning of the 19th century a local school was founded and the scattered communities came closer together.