Man and van experts from all over the world agree that when it comes to home relocations, these are the items that prove to be the most troublesome to pack and relocate:
Large quantities of books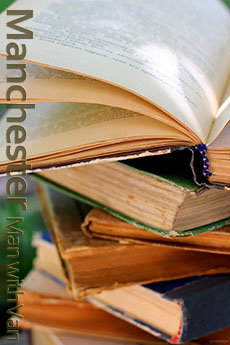 Don't get us wrong, having many books is great, especially if you are taking the time to actually read them too. The trouble with large personal libraries is that books take up a lot of space in the van and they are, on top of everything else, rather heavy. It is best to pack books in smaller boxes so that they can be moved around easier, and also, it is highly recommended to warn your man and van moving contractor well in advance about your big personal library, so that they have time to prepare properly, do a viewing and get the vehicle that would be right for the job. You are definitely going to need help when moving your big home library if not for something else for the simple reason that the endeavor is going to require considerable manpower.
Sensitive equipment from home offices
In our day and time more and more people set up their offices at home. The benefits of having a home office are many, but when it comes to moving between homes, they create more trouble than one might expect or would want. If there is some sensitive and rather expensive piece of equipment to be moved, it would require special preparation and packing supplies. These are usually not an issue with a commercial moving expert, but home movers rarely deal with such situations. Again, it is not said that your man and van movers would not be able to handle the job, but rather that they should be warned in advance they will have to deal with such a line of work so that the proper preparation is done. When you give an advance notice, the necessary packing supplies, tools and even a specialized vehicle would not be a problem to be arranged.
Cats, dogs and other pets
Living creatures should be carefully looked after during the preparation and duration of a home removal. In addition to a comfortable space in the vehicle, strong cages and sufficient food and water supplies for the road, one should also think about the time when they actually arrive at the new place. Moving homes is stressful for humans, but believe it or not it would be even more stressful for your cat. You will have to accommodate the little creature as well as possible. There are many tips over the internet about how to help your cat or dog adapt after a home relocation, but the best thing to do in this situation is again to turn to your movers for advice. You will know for sure that you have found the right moving company when it turns out that the service they provide you with is pet friendly.
In any case your man and van people will be able to help you with this and everything else.