Europe is known throughout the world as the Old Continent. This is why it is home to some of the oldest buildings on the planet. Here are some of the oldest structures in their respective countries.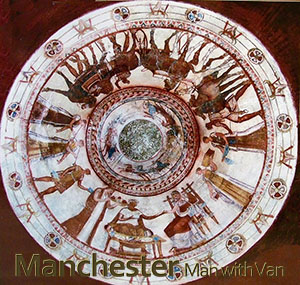 Thracian Tomb of Kazanlak, Bulgaria – This vaulted-brickwork tomb is situated in close proximity to the Bulgarian city of Kazanlak in the central parts of the country. The structure is part of a large necropolis and dates back to the 3th and 4th centuries BC. It comprises of a narrow pathway that leads to a circular burial chamber. The interior of the tomb is decorated with murals that depict a Thracian couple during a ritual funeral feast. The tomb has been listed as UNESCO World Heritage Site since the late 1970s.
Porta Nigra, Germany – The oldest edifice in Germany is also the largest Roman city gate north of the Alps. It is located in the city of Trier and is part of the Roman Monuments which as recognised by UNECSO as a World Heritage Site. The gate dates back to the 3rd century AD and is built from grey sandstone. It is one of the most visited landmarks in western Germany and is considered to be one of the best preserved Roman city gates in Europe. The other sites that are part of the Trier Roman Monuments are:
Barbara Baths
Trier Amphitheatre
Cathedral of Trier
Basilica of Constantine
Trier Imperial Baths
Roman Bridge
Igel Column
Liebfrauenkirche
Ġgantija, Malta – This Neolithic, megalithic complex of temples lies on the island of Gozo. The structures are older than the Egyptian pyramids as they were built in 3600 BC. They are regarded as the second oldest manmade religious buildings after Göbekli Tepe in Turkey. For centuries the temples have been hidden from the world although travelers and local residents knew about them. The excavation of the edifices began in 1827 but had to be stopped as the temples were in a fragile state and the land was privately owned. The archaeological digging was resumed a century later in 1933 by the Maltese Museum Department. In 1980, the complex was declared a World Heritage Site by UNESCO.
West Kennet Long Barrow, England – This Neolithic barrow near Silbury Hill is the oldest manmade structure in England. It is classified to be one of the Severn-Cotswold Tombs and historians believe that its construction started four centuries before the creation of the world famous Stonehenge. The barrow comprises of two transept rooms and one terminal chamber which was used for funeral purposes. Today the West Kennet London Barrow is one of the country's most visited landmarks and you should certainly go see it once your move via man and van services is over. Don't be hesitant into using professional help as nowadays most man and van companies work with very reasonable prices.