Britain has given some of the finest archaeologists in history and today we will present some of them to you.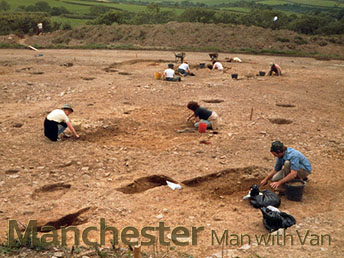 Howard Carter: Perhaps the most celebrated British archaeologist and Egyptologist in history, Howard Carter is known for the discovering the intact tomb of the Tutankhamun in 1922. Today the artifacts which were recovered from the pharaoh's burial place are displays in various museums throughout the globe including several museums in the English capital.
Louis Leakey: Also known as L.S.B. Leakey, this archaeologist was born in Kabete, British East Africa (present day Kenya) in 1903 and is credited for establishing the human evolutionary development in Africa. He worked with his wife, Mary Leakey and made his most notable discoveries during his excavations of the Olduvai Gorge in Tanzania. He was been granted with numerous awards for his work including the Hubbard Medal in 1962 and the Prestwich Medal in 1969.
Sir Arthur John Evans: This English archaeologist is most renowned for the discovery of the Palace of Knossos on the Greek Island of Crete. He was also the first man to identify the Cretan, Linear A and Linear B scripts as well as earlier pictographic writings. Evans also distinguished the Minoan civilisation from the Mycenean civilisation. In 1911, he was knighted by King George V for his work in the field of archaeology. He is also commemorated at the Ashmolean Museum in Oxford (home to the biggest collection of Minoan relics outside of Greece). Throughout his life he was won several more accolades including the Lyell Medal in 1880 and the Copley Medal in 1936. Sir Arthur John Evens died in 1941 at the age of 90.
Gertrude Bell: Gertrude Bell is arguably the most interesting Englishwoman in history as she held a political office and was a spy, traveller, writer, administrator and archaeologist. During her life he conducted numerous excavations throughout the Middle East and is credited for the detailed mapping of the regions of Greater Syria, Arabia, Asia Minor and Mesopotamia. Along with T.E. Lawrence, she established the Hashemite dynasties in modern day Iraq and Jordan. She was one of the founded of the world famous Baghdad Archaeological Museum which is currently known as the Iraqi Museum.
Leonard Woolley: Reputed as the first "modern" archaeologist, Leonard Woolley is well-known for his work on the ancient Mesopotamian city of Ur. He was also conducted excavations at the Syrian city of Al Mina as he wanted to find the link between Aegean and Mesopotamian civilizations. It was he who discovered the Copper Bull – one of the British Museum's most prominent artifacts.
Visiting the museum is an excellent way to unwind after a move. Don't forget Manchester has a number of interesting museums for you and your family to visit while our Manchester man and van team handles your relocation or after our movers are finished. Why not immerse yourself in history and relax, knowing the hassle of the removal is behind you.
Of course this list is hardly complete as the list of accomplished British archaeologists is endless. A few other notable mentions are:
John Garstang
Bernard Fagg
John Bryan Ward-Perkings
John Romer
Thomas Charles Lethbridge
John Evans