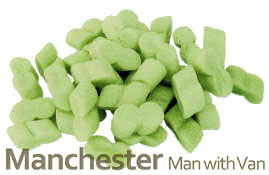 In an era where green is good and doing that little bit extra for the environment is becoming more important by the day, it is only logical and expected to make a switch to ecofriendly or sustainable packing materials.
Many good man and van removal companies have been using and providing their customers with green packing materials and supplies. In fact now one can come across entire kits of packing and wrapping supplies manufactured using sustainable methods.
If you are in the process of organising your property removal, check with your man and van service provider if they can arrange for green packing and wrapping supplies. If they don't have that, or you will be doing the removal without using specialised assistance, consider some of the following:
Choose packing and wrapping materials which are easily recycled. All plastic packing supplies like bubble wrap, plastic drop sheets, protective plastic sheeting and foil, plastic storage containers, nylon roping, other insulation materials like foams etc. are all made of plastic or plastic-derived materials and can be easily recycled and then turned into useful raw materials.
Paper and cardboard packing materials are also easily recycled. Non-waxed paper supplies as well as cardboard materials are usually aplenty during the removal. At the end of the process, all you have to do is separate all the discarded paper and/or cardboard supplies from other types of waste and place them in the correct recycling bin for curbside collection.
If you are serious about your green packing efforts, here are some tips and advice which your man and van service provider might not be aware of:
Use biodegradable packing peanuts instead of bubble wrap for instance, these can be purchased online or through specialised supply stores, in this case you reduce the use of a product/material (bubble wrap) which is produced using non-sustainable means;
Use starch-based packing supplies – there are more and more examples of such products becoming available on the market. Starch-based packing and wrapping supplies are not only ecofriendly but also antistatic – perfect for cushioning computers and electronics;
Use unbuttered, unsalted popcorn – this is one of the newest and most ingenious innovations in the industry, popcorn is easily disposed of and degraded after serving its purpose;
Use post-consumer wrapping or waste paper – the product is made of hundred percent recycled paper/paper materials and is ideal for cushioning of fragile items;
Apart from these somewhat specialised green packing supplies, you can also use not so specialised materials which you usually come across while prepping for the relocation. For example – old magazines, newspapers, catalogues etc. are ideal for wrapping and cushioning of delicate items.
Keeping your house removal green is also about being efficient in your transportation, obviously the removal requires a fossil fuelled vehicle and its horsepower – no questions there, but you can lighten the load by getting rid of unwanted items prior to removal. There is no point hauling deadweight as this increases fuel consumption and makes your man and van removal more expensive and not so green.