Moving abroad is a complex project which must be organised and planned well in advance of the actual removal.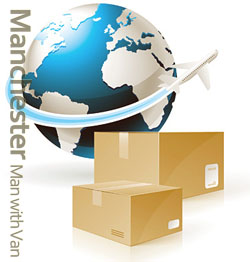 Most of the specialised removal companies or man and van service providers who deal with such removals advise customers to start planning their relocation at least three months prior to the event. Generally, three months is the time it takes for transportation and shipping to be sorted out. Usually, the most suitable type of transportation for an international removal is by sea. Relocating items and belongings, including motor vehicles by sea is the safest and cheapest way to do this.
There are many different shipping options available to people moving internationally. In most cases, the shipping arrangements depend on the volume of items that must be relocated, sometimes special arrangements are made in order to accommodate the removal of high-value or irreplaceable items. The selected removal company or man and van service provider will send out a surveyor in order to conduct a viewing and prepare estimation. The surveyor is usually a qualified logistics expert who will prepare an estimate of how much cargo space is needed for your items, check if are there any special requirements, check if there are items which cannot be transported across international borders etc. At the end of this initial stage, the movers will be able to provide customers with an accurate quote.
In the meantime, the movers will also get in contact with a specialised shipping company which will facilitate the removal of items by sea. Shipping companies charter the ship or its cargo space and sell it to third parties – in this case the international movers. Generally, there are two shipping options available to customers moving internationally. One is hiring out the cargo container for 'sole use' meaning that the entire cargo space inside the shipping container is bought by customer. The other option is to purchase shared container space also known as 'groupage'.
Groupage is the cheaper option, though if people need to transport motor vehicles, sole use containers are the better option, although more expensive. In most cases, the international movers will also deal with packing and securing of your items – not just for extra protection, but also to be in check with customers and quarantine regulations. Moving internationally involves filling out customs forms, declarations and documents – your movers though should be able to do most of the paperwork for you.