Most people who are planning to relocate their office or household will consider specialised packing services for their items and equipment.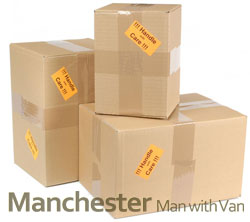 This is a logical choice as packing and securing of items properly takes time, effort and resources, though there can be no compromise on safety. Usually, the higher chance of avoiding damage during handling and transportation, justifies the costs of professional packing services. Specialised packing and securing solutions can be included as part of the service provided by most removalists and man and van service providers. Such additional options are recommended when relocating high value, irreplaceable items or expensive equipment and machinery.
There are different types of packing services available through professional moving companies. There are also specialised packing companies which deal exclusively with preparing and securing loads for removal. Generally, one can opt for packing and unpacking service or both, these can also be ordered separately. Many people prefer to do their own packing, but use professional assistance when unpacking and distributing items after delivery. This is a good option if you are not shifting overly expensive or high value items. If a customer chooses a full packing service through their removal company or man and van service provider, the usual practice would be to send out a surveyor who will assess the volume, size, weight and fragility of the load in order to select the right means to secure it. The surveyor should make a detailed list of items being moved. The surveyor should be provided with as much information and details as possible so that they can devise and implement the most suitable and efficient way to pack and secure the items. If a customer chooses a partial packing service, then the surveyor will make a list of only the items which will be packed. Many people choose the partial for high value items like art pieces, collections, music instruments etc.
There is also a specialised appliance packing service. Most of the time, manufacturers and removal industry experts advise customers to use professional packing for their appliances as this can prevent damage and many other issues. In all instances, the selected service provider should estimate the time it will take to pack and secure your items. It is important to fit the packing time within the overall removal schedule in order to avoid any costly delays or unexpected setbacks – especially important for rental and commercial customers.