When you move houses you have to deal with a lot of problems. From organizing the whole move to saying goodbye to neighbours and friends (especially if you're moving to another town or even country). So – you have your hands full for at least a month. With everything on your mind there are a lot of small but things that can easily slip your attention until it's too late.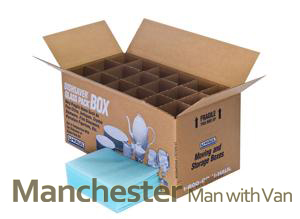 Packing your glass belongings is a classical example of such a "small thing". And it's a complicated one at that – just think how many glass objects are there in your home. From mirrors, through vases to the mug of the coffee machine. Cups, bowls and little decorative figures of glass await you to prepared them for a move. It's a good idea to deal with this at least a week before the arrival of your man with van in Manchester. That way you have at least 7 days to recall something you've forgotten.
There is no universal strategy to deal with this situation. Glass is one of the most versatile materials – it can make up anything from your TV table to the ceiling above your head. However, there are a few basic advices you could follow when preparing your glass items for transportation:
Get a divided box – for small and medium sized items it would do nicely. If you don"t have one you can improvise with a normal one and some bubble-wrap.
Spread a sheet of a newspaper or a large piece of paper on your table.
Put the glass item on the paper and carefully wrap it with it.
Now wrap the paper covered object with bubble-wrap.
This step is optional but it's recommended you apply another layer of paper. Just wrap it over the bubble wrap.
Carefully put the item in the prepared box.
Continue repeating for all glass items. Put each one carefully who it would apply

minimal pressure

on neighboring items in the box.
Wrap balls of paper and use them to lute the content of the box.
If you follow this simple template of work you'd easily prepare most of your items for transportation. This does not help so much with larger objects like a coffee table for example. A large mirror would be tricky because of it's size but packing it is still more or less straightforward – just cover it with several layers of paper and bubble-wrap. A table, on the other hand, is a complex object. You'll have to basically wrap its separate parts. Alternatively if you can find a large enough box and lute the thing inside with a special transportation foam.
A good idea is to consult your moving company. The better companies that do removals in Manchester tend to offer item packing at reasonable prices. So you can either ask them for advice or just use a generally inexpensive service they offer to solve the problem.