Think of a typical company or business in Manchester. What image does come to your head? It's probably more or less unique for each person we can ask but it's very likely there is a lot of chaos in that picture. Somehow the image that modern day companies have is one of a chaotic space full of completely random people.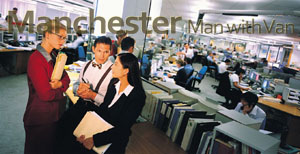 A lot of that bad publicity comes from Hollywood. It seems that according movie directors it's a complete miracle that any company from the smallest to the largest exists if we're to take their word about the level of organization in modern businesses.
Still it is true that at the bottom of each bowl of lies is a grain of truth. Statistics do show that companies are often struggling with inefficiency and some corporations even have divisions dedicated to improving efficiency. And while none of this is of Hollywood proportions it's a problem nonetheless. Modern life and by proxy modern business is much more hectic than it was 40 years ago. Solving the low efficiency problem can be quite tricky. A good place to start with is your office.
Most people understand that if you keep your desk neat and organized you'll do more work in less time. The same thing applies on a larger scale for the entire office. Things like positions desks, office appliances, the coffee machine and so on can have a serious impact on the performance of the employees of a company. It's not Feng Shui, it's common sense -positioning is the key. If the staff uses the copy machine a lot or there is one printer for several employees you have the position them in a more central place. Don't make people have to stand up and walk the entire length of the room (especially in big offices) and then back. Don't make some part of your staff have to get up every time they need to print out a form.
The key lies in arranging the desks and the office appliances. The fax machine and the copy machine should be in a central place and the desks around them. If it's a very big office the desks should be nested around what you might call "tech pockets" – one printer for every 4 computers, 1 copy machine for every 15 employees etc. On the other hand the water cooler or the coffee machine should be somewhere on the outskirts of the working space. It's proven that few minutes of small talk around the cooler actually improve productivity, but putting it in the middle of the work space might have a reverse effect.
Often the problem with bad arrangement starts the moment you move in. Furniture and appliances are left wherever the movers put them when moving in. So it's a good idea to pay a generally nominal fee and have the guys from the Manchester man and van company you hired put each desk, table, stand etc. in the place that is best for it. A careful initial layout is bound to bring a long term productivity increase.