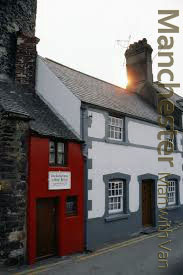 In recent years more and more examples of tiny houses have popped up around the country. Not long ago there were two seriously small yet fully inhabitable houses going on sale in London. At the same time, selling or owning the smallest house in Great Britain is becoming a competition of sorts, in which people are engaging with humour and willingness. Owning a tiny house is like driving a Smart – it is a car, it gets you from A to B, but it is so very different that it simply makes it unique.
As per most recent information and research the smallest inhabitable house in the UK is Quay House in Conwy, Wales. A genuine tourist attraction, the red façade structure is a real head turner. Quay House has a floor area of only one point eight by three metres!  To the eaves Quay House is three point one metres high (that corner sofa will be a problem to fit in, even for experienced man and van movers). It was used as residence from the sixteenth century all the way up to the start of the twentieth century.
Funny enough, the owner who was a local fisherman by the name of Robert Jones, was one metre ninety one centimetres tall, a six foot three person whichever way you look at it. Obviously, Mr Jones was too tall to live in that house, he could not stand up straight when inside, and eventually the local council deemed the place uninhabitable and asked the owner to move out. Guess man and van movers will not have to manoeuvre the couch inside after all.
Anyway back to the story – the house is still owned by descendants of Robert Jones. About a decade ago, Quay House lost some of its tourist pull because of nearby roadwork. Now though, things are back to normal and the tiny place is once again drawing much tourist attention.
Currently, Quay House is painted in bright red. The house is situated near the walls of Conwy Castle in Wales, and available for public visits. Entry for children is fifty p, adults pay a quid to get in (if they can fit). Once inside, visitors are usually struck by the actual minuteness of the house. Upstairs is so small that there is only room for a bed and one bed stand. Although in good overall shape, Quay House is structurally too weak to support visitors so viewing the upstairs part of the house happens from a special stepladder, not using the actual staircase. Historic information about Quay House is available inside. On most days, there is a lady in traditional Welsh attire adding up to the attraction of Quay House, making the look and feel of the place even more genuine and fairy tale-like.
If you are keen on owning one such property, consider what's on sale in London – at the moment, there is a flat smaller than a pool table, that's going for two hundred grand. The place is in exquisite Knightsbridge, and is a former broom closet converted to a two bedroom mini flat in nineteen eighty seven.