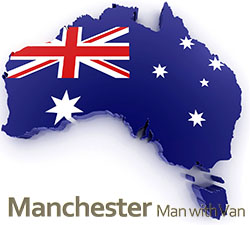 Over the last quarter of a century, Australia has topped the list of most preferred destinations for British expats. This comes as no surprise really, as the island continent provides for lovely weather, twenty one thousand miles of pristine coastline, subtropical rainforests and the Great Barrier Reef, also a large number of venomous and dangerous animals but that doesn't seem to bother British expats too much.
Before you pack your bags and make a life changing decision to move to Australia, be sensible and consider the situation from all angles. If you already made up your mind, then take your time with choosing the right removal service. Man and van removal companies which have the technical capacity and expertise (needless to say the licensing) can organise for a comprehensive international relocation service. By all means, do some thorough research on which man and van removal companies are established international movers and pick a service provider which covers as many aspects of the removal as possible.
Sydney happens to be the obvious choice for British expats settling in Australia. The continent's largest city is a world-class metropolis in every sense of the word. However, in recent years many British expats are turning their attention to Perth in the state of Western Australia. The huge boom in mining industry has created numerous new job opportunities for people of all walks of life. Brisbane, the capital city of state of Queensland is also a place where many UK expats have settled as Brisbane provides all the benefits of big city living, but is also close by to the pristine beaches and resorts of Australia's Gold Coast.
Australia is the sixth largest sovereign country in the world. With massive size and only twenty two million people population, Australia ensures plenty of space for everyone to enjoy – healthy outdoor lifestyle, which is something many strive in the UK is readily available in Australia as the climatic conditions are much more favourable, even during winter.
Another important factor which draws UK expats to the land down under is its stable and strong economy (and the employment opportunities it provides). Strong demand for natural resources which are abundant on the continent has resulted in just one annual quarter of negative economic growth over the last decade – the worldwide financial crisis hardly reached and affected Australia.
Moving to Australia though is a specific process involving different procedures and stages, like obtaining the right class visa for instance. There are many different visas issued by Australian Immigration Authorities to people who wish to settle there permanently. The particular type of visa one qualifies for, depends on their set of skills, their education and employment history etc. There are also Employment Nomination Schemes which put preference on specific people with specific professions or skillsets. Australia also issues retirement visas to individuals who qualify and are fifty five years or older. However, for retirement visas, the individual will have to 'make a significant long term financial investment in Australia'. Basically, this means one has to have a certain amount of money, savings or assets in their possession in order to receive a retirement visa.