Usually china, glassware and electronics are the ones that suffer the most during a property removal. Even when the man and van people are extra careful and attentive, the chance of causing damage to a delicate piece of electronics or other breakables is there.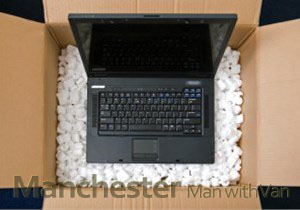 Protective packing kits for items in transit are nothing new, but they are mostly designed to protect china and other small sized breakables. Only in recent years, man & van companies have begun to work with specially designed electronics boxes.
In its principle the electronics removal box does not differ from any of its counterparts – it is still a cardboard box designed to hold an object and keep it relatively safe during handling and transit. There are however some fundamental differences between the two types. The electronics box is in fact a single wall cardboard box, though this is highly durable, specially tested cardboard that will not fold or crush under normal circumstances. Single wall corrugated cardboard is quite strong and durable – many UK based man and van service providers are making the switch to it. The purpose of this high grade cardboard is to protect electronic equipment from accidental crushing or sudden impacts during handling and transit. What makes these packing boxes even better is that they are made of hundred percent recycled materials, they use strong water soluble adhesives on box seams that is nontoxic.
Like regular packing boxes, electronics ones also come in a variety of sizes. This is quite handy as people always have the right size box for the particular piece of electronic equipment. In general, there are CD or media boxes – they are small and compact. There are also computer packing boxes, these are pretty versatile for removal of all types of electronics including different peripheral devices. The third widely available kind is the TV box. The TV removal box is specially designed for flat panel TVs of different sizes. The electronics boxes are usually punched with holes or handles for easier lifting and shifting – this will also help you with assembly and sealing of the boxes.
In case you are having hard time with box assembly or placing electronic equipment inside the packing boxes, by all means let the moving company do this for you. All professional grade moving services can be made to include packing. Don't risk your pricy electronics as placing such equipment in packing boxes may be trickier than it appears – especially in the case of large flat panel TVs or home theatre and surround sound systems. When packing electronics on your own, remember to fill voids with plenty of bubble wrap, and thoroughly seal any screens or touch panels with bubble wrap as these are usually the most delicate zones of household electronics.