Home moving is tricky, mainly because there is no universal formula that is going to show you how to do it in the most efficient and hassle-free way. There are basically two approaches from which you can choose: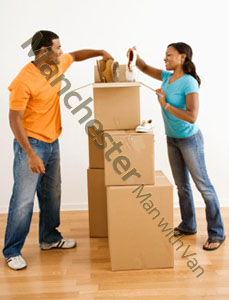 doing the job on your own, or getting professional help.
If time is pressing you, or you think that the task is too overwhelming for you to tackle it by yourself, you'd better look for some company offering reliable man and van services in your area. Fortunately, there is an abundance of man and van companies today, so it would not be a strenuous task to find a proper contractor. The key is to find a man and van company that offers a flexible schedule and quotes in advance, and also has a solid reputation on the market.
In case you go for the second option – moving your home on your own, you should give the pros and cons of the endeavor a serious thought first.
Though you will save some money by self-moving, you will have to invest a serious amount of another precious resource – time. You should clear your schedule, so that you have a least a week for preparing and executing your home relocation project.
So, before you start the actual moving, you should make sure that you are supplied with:
The time needed for the job.
Proper packing supplies and tools.
A vehicle suitable for the task.
The most problematic aspect is, of course, the vehicle. Even if you own a car, chances are it would not be quite suitable for the job. In this case you will still have to hire one, preferable from the aforementioned man and van companies. Usually the vans come with an experienced driver and at least one helper who will provide you with vital assistance during the transportation process.
When choosing the vehicle you are going to hire, make sure that it fits your requirements. It should be of proper size, so that all your personal items and furniture fit inside, and should be able to reach both your old and new location.
The major advantage of self-moving is that you have full control over the process. You decide what and how to pack, and you can pick up those items that have more priority over others. The drawback of all this is that if you do not have the necessary experience and skills, it is likely that the job would not be carried out properly.
Last but not least, before you start your self-moving, go around your local moving companies and ask for quotes – in case it eventually turns out it is cheaper to hire them than self-moving.