If you are willing to complete your home removal, no matter whether the project seems to be large or small, or you are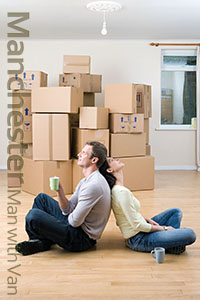 moving to the other side of town or just across the street, you should follow several really important strategies.
The most important thing you should do is start planning everything as early as possible. You will realize that by giving yourself enough time to think and plan your relocation, you will miss very little. Think about how and what you are going to pack, plan your schedule in a way that will allow you to completely concentrate on the moving process and stuff like that. Make lists – lots of list – of things to do and stuff to pack. Most specialists advise to start preparing for your removal as early as two months before the actual move.
Another very important thing to do is find a reliable and respectable man and van moving company operating in your area. You should be able to trust your contractor completely, so in addition to asking for a quote and suitable time for which to book the man and van services, ask around your friends and colleagues if anyone has ever used the services of the company in question.
It is very important to keep your movers informed about any specific requirements your project might have. It is especially important to tell them if there would be big, bulky objects to be transported, so that they can prepare themselves with adequate tools, equipment and supplies.
Your removal is an excellent opportunity to get rid of any unnecessary items you might have at your home. Use the chance to de-clutter and get rid of everything you are not going to use at the new place. Pay special attention to the piles of bills and outdated contracts – shred all pieces of paper and toss them away. The same goes with any piece of furniture, equipment, tools and old clothes you will wear never again. You can simply throw them away, donate, sell them online or recycle.
Before you even start packing, make inventory lists so that you are one hundred percent sure there will be nothing of importance that is going to be forgotten. Label each box so that you do not get confused about its contents.
After all however, it is vital to stay calm. Stress and panic are unwanted, if you want to finish your home removal properly. If you get enough time to finish the job, you will also have the chance to sit back and relax from time to time. Without hassle your relocation will got a lot smoother and problem-free, which is precisely the thing that you are after.