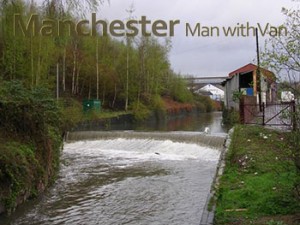 Yesterday, Manchester's Environmental Agency (EA) was flooded with calls about Irk River's waters turning rusty orange in colour. The Environmental Agency officers who began dealing with the case were somewhat baffled as the water's unusual hue was unexplainable (as yet) and it did not seem to affect any of the flora or fauna along the river. The river water's chemical contents is also being tested and investigated with results expected to be out soon.
The concentration of orange-ness in the Irk River's waters seems to be at its highest near Green Quarter and Victoria Station. Since environmental officers are still mystified by the source of the orange hue, they urge people to contact them immediately should they see something unusual taking places in or around the river. At the moment there is no cause for concern as wildlife in and around the river doesn't seem to be affected in any way, though authorities remain poised for action if such is needed.
Water in natural waterways is known to change colour dramatically in certain seasons, or when certain conditions occur. Though this is more common for sea or ocean water when different types of plankton blossom and multiply. Change of hue in river water can be caused by different factors, not necessarily detrimental ones. It could be a naturally occurring process, perhaps the river flow has unearthed certain soil or mineral sediments, or the orange colour could be caused by boom of microorganisms, again not necessarily harmful ones – after all plants and animals don't seem to be affected in any way or form. One of the people who called the environmental officers saw ducks on the orange hue river which seemed quite fine and unfazed by the waterway's condition.
The waters of the Irk River have never been too clear, the murkiness is quite the usual thing and local people don't really notice it, but the strong orange hue spotted by the public yesterday morning was something rather different thus the initial concern and confusion. The tool free phone line where local residents should call in and report any issues or suspicious activity on and around the river is 0800 807060.
Another area of the city – Bolton was experiencing water supply issues on Monday morning, which was duly reflected by people on social media. Water outages are quite unusual and local authorities had the problem fixed by the end of business on Monday. The outage attracted some quirky online humour but also had some people upset. By six in the evening on that day, people living in Bolton were reporting that even bottled water in supermarkets was in short supply, but eventually the situation was resolved. Ironically though it was a rainy day, but no tap water was coming through.
One industry where Manchester residents will not be experiencing service or quality shortages is man and van removals. Households and businesses around the city are serviced by some of the most punctual and reliable movers around. Private and business customers will be provided with fair pricing.