Office or commercial property removals are complex projects that require specialised assistance in the sense that everything has to be completed within a specified timeframe and with no unexpected setbacks.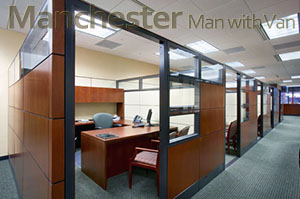 In case this is the first time you are faced with a full scale office removal project, check out some of the useful advice and tips listed below.
First and foremost – choose a man and van removal company that is right for the job, meaning go with a service provider that is experienced in commercial removals, and has the technical capacity to handle your project properly. Using specialised commercial removal services might cost a little extra but that would be money well spent as you get certain assurances and the benefit of professional expertise.
Schedule your office removal for a suitable off peak time – usually commercial man and van removal companies offer you flexible booking hours, which also include overnight removals and weekend and public holiday removals. Having the office removal conducted out of business hours or in an off-peak time will not only make things easier but also spare your business from excess downtime. Less downtime means fewer lost profits, and less disruption to your daily staff duties.
Prep work for the removal is one of the essential aspects. Effective preparation will make the relocation a breeze. Regardless of whether you will do your own packing or you will have the movers do the packing for you, there are a couple of things to keep in mind. Start with packing away documents, paperwork and files which you don't use on a daily basis i.e. files from a few years back, old customer paperwork and everything else that is not directly relevant to your daily business but is kept on site. This also applies to electronic equipment and office furniture. For instance, if you have two unoccupied work stations, complete with computers and desks, by all means pack those first as they are not in use and will not affect daily business prior to the removal.
Choose the most suitable packing materials i.e. purchase quality antistatic covers, heavy duty bubble wrap, sturdy packing boxes etc. Remember that you need everything accounted for upon delivery, in order to keep track of everything it is a good idea to label and list the contents of boxes, items etc. This is especially important when shifting the contents of multiple or identical office cubicles. In such cases, a colour code system might be quite useful. Colour coding is one of the popular methods used by professional movers.