Well, while you are preparing your items for packing and collection from the man and van company, you might want to get rid of as many items as possible, so that your reduce the strain of your relocation.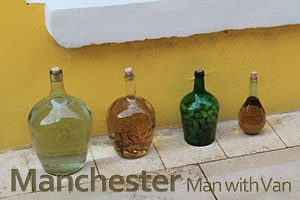 If you have leftover vinegar and you are wondering if you can use it quickly for something instead of just throwing it away, take a look at these suggestions. We are willing to bet good money that you have never thought of at least one of those ingenious solutions vinegar can be used for:
Making a beverage

. Vinegar tastes bad, especially when you try to drink it in a larger quantities. So what if we can tell you that you can use it for making a very refreshing beverage? One part drinking vinegar in four to five ounces of soda water and liquor is a receipt that with certain modifications was used ever since the time of the Roman empire.
Bake a

sweet vinegar pie

. The pie receipt including vinegar has been around for a couple of centuries. You will get all the benefits of making a tasty pie – mainly the yummy goodness of it – while also getting rid of your leftover vinegar while it is still good for use. Look around the web for receipts for sweet pie that include vinegar.
Vinegar has primarily culinary use. If while preparing for you move you still have small quantities of herbs left and you do not know what to do with them, you can mix them with the vinegar and use them as a

tasty dressing

for your final meal at the old place. Thus you will kill two birds with one stone, which is something. The vinegar with herbs dressing is a classic, so we are sure you are going to use it in the future too, once you taste it for the first time.
You can

use vinegar to clean

up produce. While fresh vegetables and fruit are really healthy the microorganism that are usually found on them are far from that. Just washing the produce with clean water will not do the trick in all cases, but if you use vinegar as a produce cleaner of sorts, you are guaranteed to kill off all potentially dangerous microorganisms.
Actually, vinegar makes a

great homemade cleaning solution

. Mixing a couple of tablespoons of vinegar in a stray bottle filled with water will lead to a something equal in efficiency to most of the chemical cleaning products that are to be found in the local supermarket. You can use the solution for your end of tenancy cleaning, or even to clean up and disinfect once you get to the new place.
As you can see, there is much you can do with vinegar, and we are more than certain that you will find useful applications of other products and items that simply lie around your house. Optimizing the way you use them means that you optimize your life.