Storage is an integral part of any well-arranged international removal service. Storage solutions may be needed by customers due to a bunch of different reasons.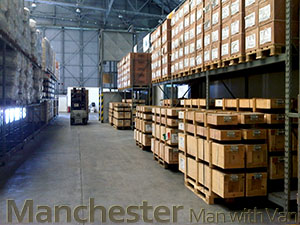 In some cases, people are only moving away temporarily, but they are renting a residence which must be vacated for the duration of the absence. In such situations it is much better to store some of the items for the time being, and retrieve them later when the individual has returned home. Sometimes, people need storage at the point of delivery i.e. destination country, this is also an option and any good international moving company offers flexible and convenient storage solutions to their customers.
If you know that storage will be part of your removal service request, by all means sit down and discuss this with your international man and van company of choice. Not all service providers have storage facilities or partnering storage businesses abroad so clarify whether or not they can meet this particular requirement of yours.
In case you are in a situation where you have to travel and arrive in advance, meaning you will reach the destination country before your items will, it is good to arrange for a UK based storage solution, provided though you are going to a destination within continental Europe. This is a good option as most of the well-established, UK based man and van service providers will be able to organise and carry out the delivery of your goods within about forty eight hours.
When traveling to faraway destinations or intercontinentally, to Australia or North America or East Asia, it would be better to arrange for storage of your belongings at the destination country. For this to happen though, your selected man & van company should be in partnership with a specialised storage service provider, or another partnering company that has access to secured storage facilities at the intended destination. You will likely be subject to preferential storage charges in this case.
Another aspect to consider is the available storage duration or period. Some storage facilities offer only limited time storage also known as short term storage. Others have unlimited or long term storage solutions available to customers.
If in need of specialised storage, and you have selected a large, international removal company for shipping your goods, ask them if they have an available or partnering storage facility near the city or town where you are headed. Sometimes available storage facilities are not as close to your destination as you need them to be. If there will be additional transportation required from the storage facility to your next address, be sure to clarify any additional terms or costs that may arise. Generally, good removal companies include all costs in the door-to-door services they offer.