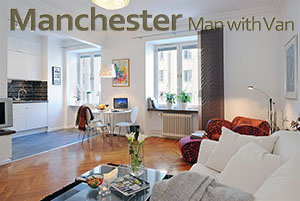 Many tenants, first-timers in particular would be somewhat worried about the advantages and limitations of living in a rented home. Indeed renting your home comes with its own set of privileges and responsibilities, as well as some specific expenses. Below are listed some useful tips on how to make rental living more manageable and affordable.
After choosing a suitable part of town, and the type of rental property you are after, decide on whether you need a furnished place or an empty one. If you have your own set of furniture already, opt for a furnished home. A furnished home will actually save you money twice:
Firstly, you won't have to invest in buying new furniture and appliances;
Secondly, the man and van company will charge you less for the removal as these service providers base quotes on volume of items to be moved;
Once you have found and secured your new rental accommodation, you will have to get yourself and your belongings over there. Unless you will be doing your own relocation, you need specialised man and van removal services. A professionally organised man and van removal offers customers many important advantages which shouldn't be overlooked, like for example comprehensive insurance, end to end service coverage including prep work etc.
A good man and van company will prove to be invaluable in cases where awkward items or bulky furniture need safe removal, or when disassembly or reassembly of furniture is required.
In case the rental is partially furnished, or under furnished, tenants can speak to their letting agent as to whether or not the landlord can add or remove certain items and pieces of furnishing. Many landlords have no problem with doing so. Having said this, tenants must keep in mind that renting a fully furnished or non-furnished rental will determine the type, and clauses of the rental agreement.
By all means look for an energy efficient rental property. EPCs (energy performance certificates) are quite useful in such situations as they give you a good indication of what to expect in terms of power and utility bills. Look for a rental place with the highest possible energy rating .
Once you move in, after tipping the man and van people of course, be sure to carefully check the inventory against the actual items present in the property. Look for any discrepancies between items listed and items present. In case there is no inventory available, contact the landlord or letting agent as soon as possible and request one. Note any issues you see, or any items which do not match in condition to the condition described in the inventory. Report those thoroughly and save yourself numerous hassles later on.
The landlord is obligated by law to present tenants with a safe property. This refers to gas and electrical safety mainly. The property must have a valid annual gas and electricity safety certificate. It is also advisable to secure some sort of home insurance for tenants as the insurance policy the landlord has most likely doesn't cover tenants.