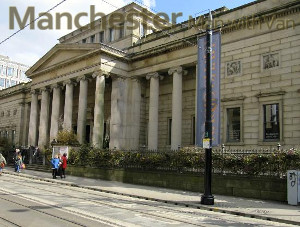 In case you have recently arrived or returned to Manchester and you have had enough of man and van removal company talk, then you will surely appreciate a tour of some of the city's most renowned galleries and art venues. A session of refined entertainment and a dose of culture can't do any harm, right.
@ Manchester Art Gallery
Currently, Manchester Art Gallery is hosting a powerful exhibition responding to the themes of warfare in conflicts during the last hundred years. The exhibition called The Sensory War is an honest yet hopeful visual display or account of hundred years of international warfare. The artistic interpretations featured in the display are rooted in the physical and mental impact of the frontline. The exhibition features stunning artwork from some of the most renowned painters, as well as powerful photographic images.
@ Old Granada Studios
Manchester Contemporary Art Fair and the Buy Art Fair being staged this weekend feature a great display of modern artwork. The fair is the biggest and most notable event of its kind in the north of England. A true feast to the eye, the fair will display a stunning array of contemporary artworks, with a total value of over one million pounds! Famous artist and musician Bill Drummond will be unveiling some of the pieces, alongside him will be the breakout artist JJ Adams – a newcomer to watch out for.
@ Whitworth Gallery
The Whitworth is yet to complete its ambitious renovation design. Plans are to have the venue up and running in twenty fifteen. Nevertheless, you can swing by to see how renovations are coming along, though the final design is still somewhat of a secret. In fact the new building design is so ambitious that the renovation project has to be extended by four months! Although the place will undergo a complete makeover, there are no changes to the cultural calendar and schedule of the Whitworth. Check with specialised sites and publication for details on exhibitions, dates and featured artists.
@ Manchester Art Gallery
Fancy some unorthodox artworks created by very orthodox materials? If so, then Omid Asadi's stunning collection of autumn leave displays is just for you. The young Iranian who came to study art in Manchester was in fact a licensed engineer in his native country. Though he has not turned a new page in his life and his magnificent carvings, made of fallen autumn leaves are nothing short of amazing. The artist says one such carving (depending on its complexity of course) can take up to a month to complete – and you thought your man and can company was taking too long to get you to Manchester.
@ Salford Art Gallery
Contemporary artist Val Hunt is anything but ordinary. Her award winning art installations turn waste into magnificent art pieces. According to Val Hunt – her work is a constant adventure into the unknown. For the last twenty seven years, she has proven herself as a fine craft maker, and an innovative designer of bespoke artwork and wearable pieces made of discarded items and materials.