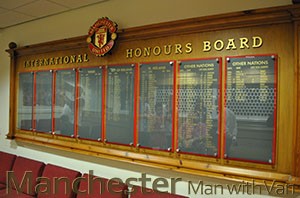 The Manchester based football club of Manchester United is one of England's and the world's best football teams. This is why a large number of legendary footballers have played for the club throughout the years. Here is a list of the most famous players to have worn the Manchester United jersey.
Peter Schmeichel – The Danish goalkeeper is considered to be the best goalie in the team's history. He came to Manchester United in 1991 from the Danish side of Brondby. Schmeichel was part of the team for 8 years during win he played a total of 393 and scored 1 goal. During his time at Man U he won 5 league titles, 3 FA Cups, and 1 Champions League trophy among other titles.
Rio Ferdinand – One of the best English footballers to have played for the Manchester team. Rio Ferdinand came to Manchester United from Leeds United for a record breaking fee of

£30 million

. He played a total of 12 seasons for the club and 455 matches and scored 8 goals. His honours with the colours of Manchester United include 6 league titles, 1 FA Cup and 1 Champions League trophy.
Jaap Stam – Unlike Rio Ferdinand, the Dutchman stayed at the club for only three seasons. He played all in all 127 matches with the United jersey and scored only 1 goal. Despite his short stay he did manage to win almost every trophy possible during his time at Manchester as he won 3 league titles, 1 FA Cup and 1 Champions League trophy.
Sir Bobby Charlton – Arguably the best English football player of all time, Bobby Charlton is a local legend. A product of the Manchester United academy, he spent almost his entire career playing for the team. Until recently he held the record for the most appearances for Manchester United (758 matches and 249 goals). He won 3 league titles, 1 FA Cup and 1 European Cup during his time as a "red devil".
Cristiano Ronaldo – The Portuguese superstar arrived at the club at the tender age of 18. However he quickly became one of the most important players of the squad. Ronaldo stayed at Manchester United for six years during which he appeared in 292 matches and scored 118 goals. His accolades include 3 league titles, 1 FA cup and 1 Champions League trophy.
Ryan Giggs – The Welshman is the currently holder of the record for most appearance for the club. He is also a product of the Manchester United academy and spent his entire 24 year career with the club. Ryan Giggs has 963 matches and 168 goals as a Manchester United player and won 13 league titles, 4 FA Cups and 2 Champions League trophies amongst numerous others.
You can see for yourself the currently best player of the team by attending a Manchester United game once that your relocation is over. You can speed-up your move to the city by using the services of the Manchester based moving company. Know that most companies provide affordable Manchester man and van services.
Honourable mentions: Eric Cantona, George Best, Fabien Barthez, Roy Keane, Carlos Tevez, Paul Scholes and Gary Neville.